Craobh Rua (pronounced Crave Roo-Ah) translates from Irish to 'Red Branch' and is a name that is well known in Celtic history from the stories of the Red Branch Knights of Ulster.
Hailing from Belfast they perform Irish traditional music with their distinctive northern style. Their music has delighted audiences and earned them wide acclaim and recognition. Craobh Rua are now regarded around the world as one of the finest ambassadors of Irish traditional music. The band's musicians bring their own individual experience to the group and fuse their talents to bring life to a wide array of instruments including the banjo, mandolin, fiddle, uilleann pipes, tin whistle, guitar and vocals. They take a refreshing, unpretentious but uncommonly skilled run at some of the greatest music in the world.
They have given concerts and festival performances in the USA, Canada, Australia, Germany, Austria, Italy, Holland, Switzerland, Brittany, Asturias, Belgium, Poland, Slovenia, Denmark, Norway, Bulgaria, England, Scotland, Wales and of course their native home - Ireland.
Craobh Rua has released six albums to date and appeared on a number of compilation albums. Their latest release, I'd Understand You If I Knew What You Meant, has been critically acclaimed and spent most of 2015 near the tops of the traditional music album charts.
"Craobh Rua are free advertisement for everything that's good about Irish Traditional Music – they play it from the heart and they play it superbly. Long may they continue to do so." -Belfast Telegraph
Brian Connolly
Brian Connolly (banjo and mandolin) from Belfast was taught the mandolin by his grandfather and then started playing the banjo. His main influences include Barney McKenna of the Dubliners, The Chieftains, The Bothy Band and Planxty. He played with several groups while at school and began playing at sessions. He founded the original Craobh Rua in the mid-eighties and remains the driving force behind the band today. As well as touring with Craobh Rua he teaches banjo and mandolin and has published a banjo tutor book Play Tunes on the Irish Tenor Banjo Introductory Repertoire.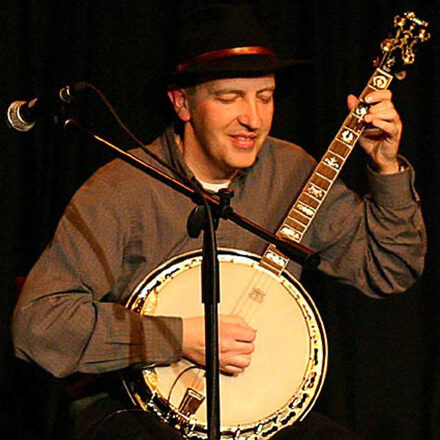 Desy McCabe
Desy McCabe (uilleann pipes and tin whistle) originally from Belfast and now living in Cork. Desy started initially playing the tin whistle at 15 and then a few years later began to play the uilleann pipes. His main influence on the uilleann pipes was the uilleann piper and pipe maker Sean McAloon. He also learned from recordings of The Chieftains, The Bothy Band and Planxty and started to play at the sessions around Belfast. He is the original uilleann piper with Craobh Rua and recorded on the first album Not A Word About It.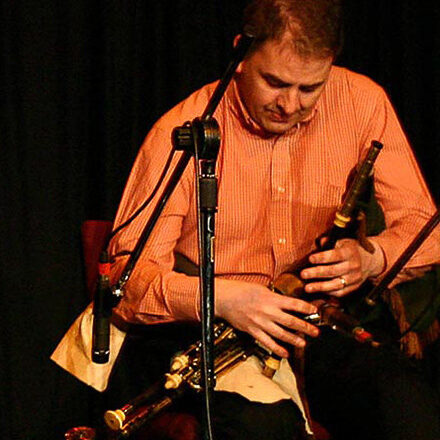 Jim Rainey
Jim Rainey (guitar and vocals) Belfast born, began playing guitar and trying to sing at around the age of 16. It was at this time that he first discovered Irish trad music and whilst immediately smitten, did not begin to play at sessions until into his twenties. A self-taught musician, Jim got most of his musical education at the various sessions throughout Belfast. His influences are too numerous to list-though he is particularly drawn to Breton fest noz music, blues, bluegrass and gypsy swing.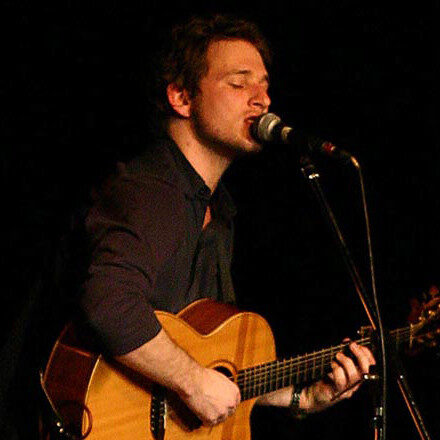 Conor Caldwell
Conor Caldwell (fiddle) from Belfast is a student of Donegal fiddle music and was awarded a PhD in 2013 for his thesis on the fiddler John Doherty. He has taught and lectured as many prestigious festivals around Ireland and Europe including the Willy Clancy Summer School, the Glencolmchille Fiddle Week and Scoil Gheimhridh Ghaoth Dobhair, as well as having worked at Queen's University, Belfast. Conor has collaborated with a number of artists in recent times, including Danny Diamond, Maurice Leyden and the Scottish fiddler Coll Macdonald.
Michael Cassidy
Michael Cassidy (fiddle) from Belfast started playing fiddle at the age of twelve, taking classical lessons at first and then playing traditional music after attending a Bothy Band concert. Initially he learned from recordings of Paddy Glackin, Kevin Burke and Sean Maquire on a fiddle bought by his grandfather and handed down to him in the early eighties. He played in several groups at school and has played in Craobh Rua since 1986.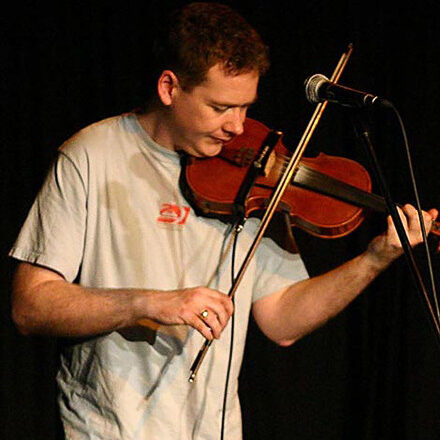 Patrick O'Hare
Patrick O'Hare (uilleann pipes and tin whistle) from Belfast began playing the pipes at age thirteen. He has toured extensively throughout Europe as a soloist and with various bands. He was asked to join the group Ciorrus, formed by Donal Lunny but turned down the opportunity as he felt it was not the right time. As well as a performer and teacher he is also a maker of the uilleann pipes and has gained a reputation as one of the most outstanding reed makers of his generation, making reeds for many pipers from around the world such as John McSherry and Michael McGoldrick. He has published a book A Guide To Reed Making For The Uilleann Pipes.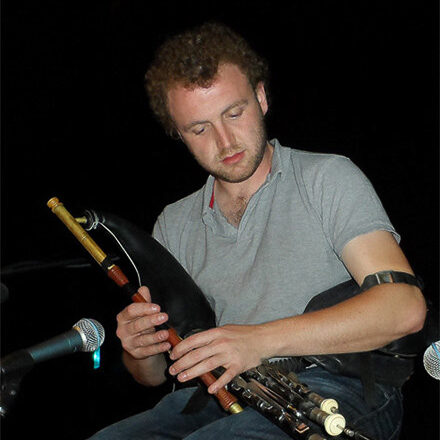 Eoghan McKenna
Eoghan McKenna (fiddle) from Co. Antrim started playing fiddle at age 7, taught by London musician Karen Ryan. Later he took lessons from Sean Maguire. Influences include Sean Magiure, Andy McGann, Paddy Reynolds and Michael Coleman. Has played with Cross Keys Ceili Band and is an All Ireland Fiddle Champion. He also plays banjo and mandolin and has been playing with Craobh Rua for the last few years.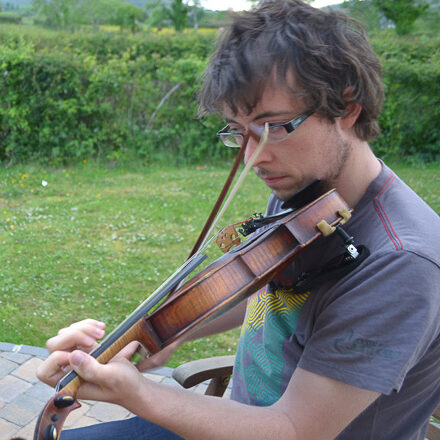 Reviews and Testimonies
"The mighty Northern style of Irish Traditional Music cruises through their veins" -fRoots
"A rich sound defined by its acoustic driven jigs, reels and waltzes, Craobh Rua's traditional Celtic Fare not only warms the soul, it sets the toes-a-tappin'." -John Roos, LA Times
"Craobh Rua are free advertisement for everything that's good about Irish Traditional Music – they play it from the heart and they play it superbly. Long may they continue to do so." -Belfast Telegraph
"They are among the foremost bands playing Irish music today." -Rock 'N' Reel
"My pick of the festival was Craobh Rua…gained momentum like a runaway freight train and had young and old cheering and dancing in the field." -Main Line Times, Philadelphia, USA
"Craobh Rua…stole their way into hearts with the almost telepathic virtuosity and verve of their instrumental playing on uilleann pipes, fiddle, banjo, mandolin and bouzouki." -Jim Ferguson, The Shetland Times
"Craobh Rua played warm, unpretentious and skilful music…" -Scotland on Sunday
"A Rare musical feast. Craobh Rua had the audience clapping their hands and stamping their feet so much at the end of their energetic performance that they were persuaded to play an extra piece." -The Shetland Times
"The stars of the show were undoubtedly Craobh Rua…they produced one of the tightest sounds I have heard from a live band." -The Orcadian
"Craobh Rua combine the best of traditional and contemporary influences in arrangements which splice together individual interpretations of melody and harmony lines into a texture which has the durability of a hand-woven cloth." -Archie FisherBBC Radio Scotland
"One of the most wonderful live bands we've ever had on the show." -HENO S4CTV, Wales
"Craobh Rua are nothing short of spectacular." -Mark Sustic, Champlain Valley Folk Festival, USA
"They have a wonderfully relaxed yet exciting way of playing tunes…The original arrangement and easy delivery of their songs makes a wonderful contrast to the tune sets and provides a balance that leaves every audience delighted and looking for more." -Phil Cunningham
"If you're a fan of Irish traditional music and it's the real diddly you're 'craobhing', you can't go wrong with Craobh Rua!! Their fiery combination of fiddle, banjo and pipes produce tunes so true to their origins you can almost smell the peat smoke." -Steven Dietrich, Producer, Celtic Airs Concert Series, University of Hartford, Hartford, Connecticut, USA
LIVE PERFORMANCES
TV and Radio Performances
BBC TV series Blas Ceoil
TG4 series Geantraí
BBC TV Series The Shetland Sessions
BBC Music Live when they played live in front of millions of viewers
BBC Radio 3 in World Music Day along with a host of artists from around the world
Millennium Stage Live Internet Broadcast concert series from the Kennedy Center, Washington, DC
Voice of America - Smithsonian Concert Series Washington, DC was recorded and broadcast worldwide
Festival Performances
USA FESTIVAL PERFORMANCES
Smithsonian Folklife Festival, Washington, DC
Common Ground on the Hill Festival, MA
The Celtic Classic, Bethlehem, PA
Southern Illinois Irish Festival, Carbondale, IL
The New Bedford Folk Festival, MA
Irish 2000 Arts and Music Festival, Albany, NY
Irish Fest, Milwaukee, WI
The Philadelphia Folk Festival, PA
The Philadelphia Ceili Group Irish Music & Dance Festival
The Sebastopol Celtic Festival, California
The Festival of the Mabon, Denver, CO
The Cincinnati Celtic Music and Cultural Festival, OH
The Washington Irish Festival, Washington, DC
The North Texas Irish Festival, Dallas, TX
The Chicago Celtic Festival
The San Francisco Celtic Festival
The Lincoln Center Out-Of-Doors Festival, NY
The Bethlehem Music Festival, PA
Mayfair, Allentown, PA
The Champlain Valley Folk Festival, VT
The Louisville Irish Festival, KY
The Portland Celtic Music Festival, Oregon
The International Festival, Sacketts Habor, NY
The Harborfest, Oswego, NY
The Nassau Comm Coll. Festival, Nassau, NY
The Fiddle and Bow Festival, Winston-Salem, NC
The Charlotte Folk Society Festival, Charlotte, NC
CANADIAN FESTIVAL PERFORMANCES
The Winnipeg Folk Festival
The Vancouver Folk Music Festival
The Calgary Folk Music Festival
AUSTRALIAN FESTIVAL PERFORMANCES
The Port Fairy Folk Music Festival
The Perth International Arts Festival
The Kapunda Celtic Music Festival
The Nannup Folk Music Festival
The Portland Music Festival
ENGLISH FESTIVAL PERFORMANCES
The Canterbury Festival
The Helmsley Folk Weekend
The Wallingford Bunkfest
The Glasson Festival
The Bromsgrove Folk Festival
From The Heart, Barbican Centre, London
The Cheltenham Folk Festival
The Celts in Kent Festival
The South Bank Folk Week
The Towersey Folk Festival
The Wimborne Folk Festival
Brampton Live, Brampton, Carlisle
The Gosport Folk Festival
The Tyneside Irish Festival, Newcastle
The Nantwich and Crewe Folk Festival
The Footloose Festival, Matlock
The Craic Festival, Hye-On-Wye
The Malborough Music Festival
The Whitney Folk Festival, Oxfordshire
SCOTTISH FESTIVAL PERFORMANCES
The Shetland Folk Festival
The Orkney Traditional Folk Festival
The Edinburgh International Folk Festival
The Douglasdale Folk Festival
The Moniaive Folk Festival
The Girvan Folk Festival
Glenfarg Folk Feast
The Stonehaven Folk Festival
The Isle of Arran Folk Festival
The Isle of Bute Folk Festival
The Killin Traditional Music and Dance Festival
The Kilmarnock Folk Weekend
The Port William Folk Festival
The Skye Folk Festival
The Garlieston Folk Festival
Feis an Eilein, Skye
The Caol & Lochaber Music Festival, Fortwilliam
The Dunfermline District Arts Festival
The Dundee Folk Festival
The Dumfries and Galloway Folk Weekend
The Blairgowrie Folk and Blues Festival
WELSH FESTIVAL PERFORMANCES
The Cnapan Folk Festival
The Pontardawe Festival
The Swansea Celtic Festival
IRISH FESTIVAL PERFORMANCES
Cork Folk Festival
Ulster American Folk Park, 'Folk in the Park'
5th Annual Irish and Traditional Folk Music Festival
The Belfast Festival at Queens
Gign The Bann Festival
The Hilden Beer Festival
The Belfast Folk Festival
The Ballyshannon Folk and Traditional Music Festival
The Pan Celtic International Festival Killarney
ITALIAN FESTIVAL PERFORMANCES
Yule Fest, Comun Nuovo, Bergamo
Festival Celtica, Milano
Festival d'Irlanda, Genova
Etnofestival, San Marino
Folkest, Brugnera
Festival Interceltico, Trezzo sull 'Adda
Festival Irlandese, Padova
Varesefestival, Varese
GERMAN FESTIVAL PERFORMANCES
Venner Folk Frühling
The Harlekinade Folk Festival, Ludwigshafen
The 4th Herbst Folk Festival, Plauen
The Muhlhausen Festival Muhlhausen
DUTCH FESTIVAL PERFORMANCES
Iers Festival, Sneek
Razzmataz Festival, Souburg
Zaanfolk Festival, Zaandam
Ommen Festival, Ommen
SLOVENIAN FESTIVAL PERFORMANCES
The Okarina Folk Festival, Bled
The Lent Festival, Maribor
Rock Otocec '97, Novo Mesto
The Mediteran Festival, Zola
OTHER FESTIVAL PERFORMANCES
The Irish Nights Festival, Schaffhausen, Switzerland
Festival Intercéltico d'Occidente, Tapia de Casariego, Asturias
Neuche Celta, Ribeseya, Asturias
The Tonder Festival, Denmark
Folkfestival Gutenbrunn, Austria
Stadtfest Neusiedl, Austria
The Interceltic Festival, Lorient, Brittany
The Labadoux Festival, Belgium
Na Fir Bolg Festival, Belgium
The Third Celtic Festival, Poznan, Poland